Federal prosecutors unveiled charges against Sen. Bob Menendez (D–N.J.) on Friday that read like a combination of James Bond and The Sopranos. The indictment accuses Menendez of accepting bribes for a variety of favors, from helping local businessmen stay out of jail to green-lighting arms deals with the Egyptian military. Prosecutors allege that Menendez's wife Nadine Arslanian was paid, in the classic Sopranos style, through a no-show job at an Egyptian meat company. The FBI found hundreds of thousands of dollars in cash and gold at Arslanian's suburban home.
The senator and his co-defendants pleaded not guilty during a Wednesday court hearing. He claimed at a Monday press conference that the indictment was a "limited set of facts framed by the prosecution to be as salacious as possible." While Menendez has stepped down from his post as head of the Senate Foreign Relations Committee, he vowed on Monday to stay in the Senate "on behalf of the 9 million people who call New Jersey home." However, a growing chorus of Democrats — including both national and New Jersey officials — has demanded that Menendez step down from his seat in light of the charges.
The combination of local wheeling-and-dealing with international intrigue is nothing new in New Jersey politics. While the state is often known for its weird ambient smells, Mafia families, and party beaches, New Jersey also hosts some of New York City's wealthiest suburbs. Many well-organized diasporas have roots there, and many powerful foreigners park their money there. The career of a New Jersey politician is often intertwined with foreign policy.
FBI agents raided Arslanian's home in Englewood Cliffs, 15 minutes away from the exclusive country club where Nikki Haley spoke to pro-Israel donors last week. The nearby town of Englewood had previously been the center of an international incident in 2009, when Libyan ruler Muammar Qadhafi was preparing to address the United Nations. The Libyan foreign ministry owns a mansion in Englewood for its UN ambassador, and sudden construction led to rumors Qadhafi was staying there.
Qadhafi's next-door neighbor would have been Rabbi Shmuley Boteach, a prominent pro-Israel activist with ties to settlers in the Palestinian territories. The rabbi waged a high-profile campaign to ward off Qadhafi, using his column in the Jerusalem Post to complain about the construction workers' treatment of his trees. Shmuley threatened to sue the Libyan foreign ministry so that "Libyan money will go toward peaceful projects like planting trees rather than blowing up planes," and offered to host Qadhafi himself if Libya recognized Israel.
The Libyan delegation ended up renting property in suburban New York from Donald Trump, who took the money and kicked them out. Qadhafi was so enraged by his treatment that he scattered unsecured nuclear materials across a Libyan airfield. Then-Secretary of State Hillary Clinton, who lives close to the Trump property, had to talk Qadhafi down. All politics is local politics, as they say.
Menendez started his political career within the Cuban community of Hudson County, the region of New Jersey just across from midtown Manhattan. The large Cuban diaspora there, traumatized by Fidel Castro's revolution, turned to militant anticommunist politics. The Weehawken Duelling Grounds, where Aaron Burr shot Alexander Hamilton in 1804, now features a statue of Cuban national poet José Martí and a monument to Assault Brigade 2506, a force sent by the CIA to overthrow Castro during the Bay of Pigs incident in 1961.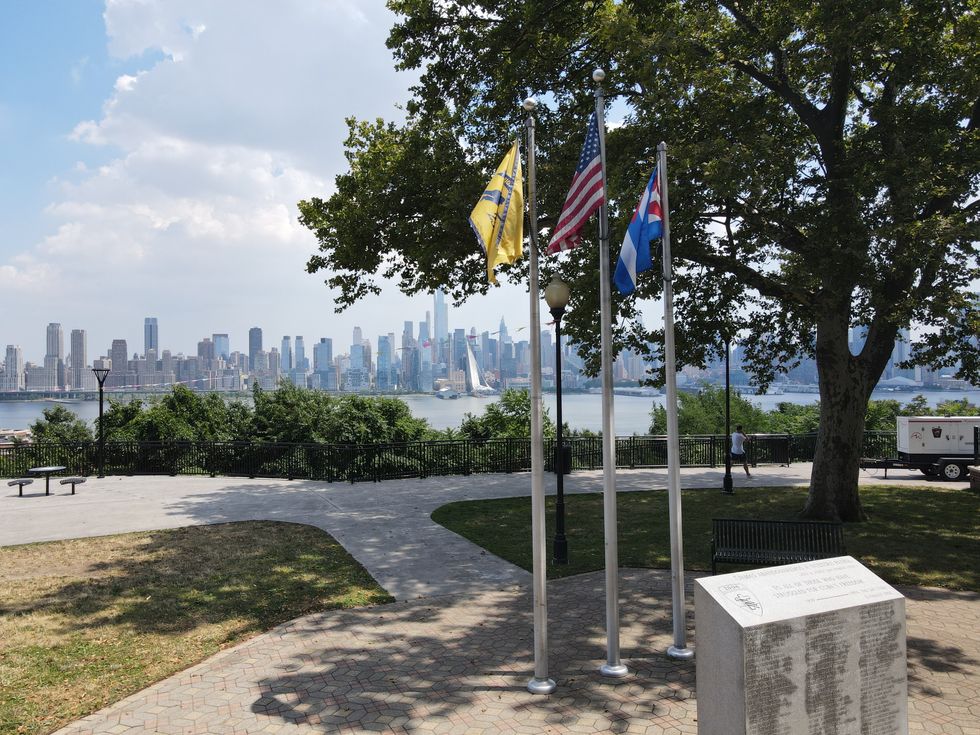 The monument to the fallen from the CIA's Assault Brigade 2506, which fought against Fidel Castro's government at the Bay of Pigs. Photo: Matthew Petti
During the Monday press conference, Menendez implied that he was also one of the many fleeing Communism. He called himself the "son of Cuban refugees," and said that the cash found by the FBI was "from my personal savings account, which I have kept for emergencies, and because of the history of my family facing confiscation in Cuba." But Menendez was born in New Jersey years before Castro's revolution, to a family of working-class immigrants who had left Cuba under the previous, capitalist dictatorship. Menendez's Senate office did not respond to a question about what confiscation his family faced.
Menendez was surrounded by the politics of the anticommunist emigres nonetheless. In the 1970s, when Menendez was on the Union City school board, several rival Cuban-American guerrilla groups held rallies and ran extortion rackets. Union City brothers Guillermo and Ignacio Novo were convicted of killing Chilean leftist politician Orlando Letelier with a car bomb in Washington; their convictions were overturned on appeal. Menendez himself helped raise money for the legal defense fund of Eduardo Arocena, a Union City guerrilla leader convicted of murdering a Cuban diplomat in New York and organizing other bomb attacks, in the 1980s.
Since branching out into statewide politics, Menendez cultivated ties with other diaspora groups. He's member of the Friends of the Irish National Caucus and the Armenian Caucus, and has touted Arslanian's Lebanese-Armenian roots. The senator is sure to show up at Hindu holiday festivals, and once condemned Time Magazine for making fun of Hindu believers in New Jersey. Rabbi Shmuley, himself a Republican, praised Menendez for being a non-Jewish friend of Israel. A local Greek diaspora newspaper simply described Menendez as "our guy."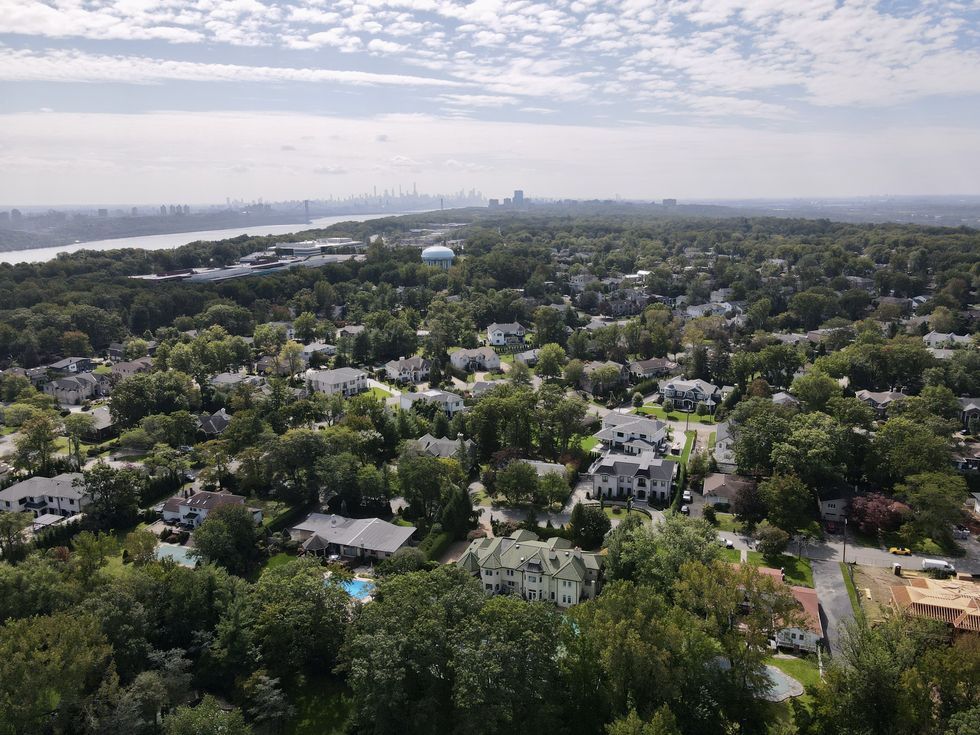 Aerial photo of Englewood Cliffs just across the river from New York City. Photo: Matthew Petti
These diaspora ties have sometimes landed Menendez in legal trouble. The senator was indicted in 2015 for a scheme that involved Dominican-American doctor Salomon Melgen's attempts to score a contract in the Dominican Republic. (Menendez escaped jail time after a mistrial was declared in 2018, and successfully pressured the Trump administration to grant Melgen clemency.) Friday's indictment similarly involved immigrant businesspeople in Menendez's social circles.
Two of the alleged bribe-givers were Lebanese-American real estate developer Fred Daibes and Egyptian-American meat merchant Wael Hana, whom Arslanian was friends with in the past. Like many things in New Jersey politics, the alleged favors to his associates mixed the local and the global. Menendez allegedly tried to protect Daibes and another local businessman, José Uribe, from fraud charges. He also allegedly tried to help Hana maintain his monopoly on halal meat exports to Egypt — a monopoly that caught the attention of Egyptian media in 2019.
The most explosive accusations involve Menendez's contacts with Egyptian military and intelligence officers that he met through Hana. Menendez allegedly passed on sensitive data about U.S. Embassy staff and ghost-wrote a letter on behalf of an Egyptian general asking for military aid. Prosecutors also claimed that the Egyptians bribed Menendez to make sure American arms sales to Egypt went through smoothly.
Menendez allegedly asked Arslanian to tell Hana that he had approved the sale of 10,000 tank ammunition rounds and 46,000 target practice rounds to Egypt, for use against the Sinai insurgency. Arslanian forwarded the senator's text message to Hana, who forwarded it to an Egyptian army officer, who responded only with a 👍 emoji, according to the indictment.
The indictment also includes a photo of Menendez and Arslanian at the house of an unnamed "senior Egyptian intelligence official," whom researcher Amy Hawthorne identified as Egyptian intelligence chief Abbas Kamel. Menendez, on his return from Egypt, allegedly googled "how much is one kilo of gold worth." Hana also allegedly helped pay off the mortgage on Arslanian's Englewood Cliffs home. He returned to the United States and was arrested at John F. Kennedy Airport in New York City on Tuesday.
On Friday, news reporters showed up in Englewood Cliffs, looking for the Mercedes-Benz convertible that Menendez had allegedly bought with Uribe's bribe money. One reporter seemed surprised to see that Arslanian's house — the place where so much cash and gold were hidden — was an average-sized suburban bungalow. But looks are deceiving. Englewood Cliffs is an expensive area, and Arslanian's house is worth about $1.1 million.
New Jersey, in a nutshell: global power hidden in plain sight.
A version of this article first appeared on the author's Substack page, "Matthew's Notebook."