Republican presidential candidate Nikki Haley regaled a pro-Israel lobby group Wednesday with stories of Chinese mind-control attacks, among other foreign bugaboos. Addressing the group at a posh country club in Tenafly, New Jersey, the former South Carolina governor and UN ambassador delivered prospective donors a combination of big-tent domestic politics and a heavy dose of hawkish foreign policy, especially in the Middle East.
Some of her talking points harkened back to Bush administration. Haley warned that "we can never be so arrogant to think that another 9/11 won't happen," and mocked UN inspectors' claims that they were able to investigate the Iranian nuclear program, just as the Bush administration had mocked UN inspectors' inability to find Iraqi weapons of mass destruction.
In a modern twist on War on Terror fears, Haley frightened her audience with the claim that China was developing "neurostrike" weapons, possibly to use on Americans.
The campaign remarks to the low-profile event hosted by the pro-Israel lobby group NORPAC, were clearly aimed at wooing potential donors more than making headlines. The event served as a window into the type of constituency Haley considers her core supporters — literal country-club Republicans with a hawkish foreign policy outlook and neoconservatives — and how she plans to appeal to them.
Tenafly is a leafy, picturesque upper-middle-class suburb. Just outside New York City, the town boasts a median household income of $153,000 per year and an average home value around $1 million. Downtown Tenafly looks straight out of a Norman Rockwell painting, with a classic 1950s diner, a colonial-style church, a Lubavitcher synagogue, and an ornate brick train station that has been turned into a trendy cafe.
Organizers chose a venue that was a little more exclusive: the Knickerbocker, one of Tenafly's two country clubs. The event was not advertised on Haley's campaign website or official social media, only through print ads in a few local newspapers and on the NORPAC blog.
The Knickerbocker main hall, which had around 300 seats plus standing room, filled up before Haley arrived. A man wearing a yarmulke on his head and holding a red "Trump was right" trucker hat in his hand wandered the aisle, looking for open seats, while 80s rock music blared from the loudspeakers.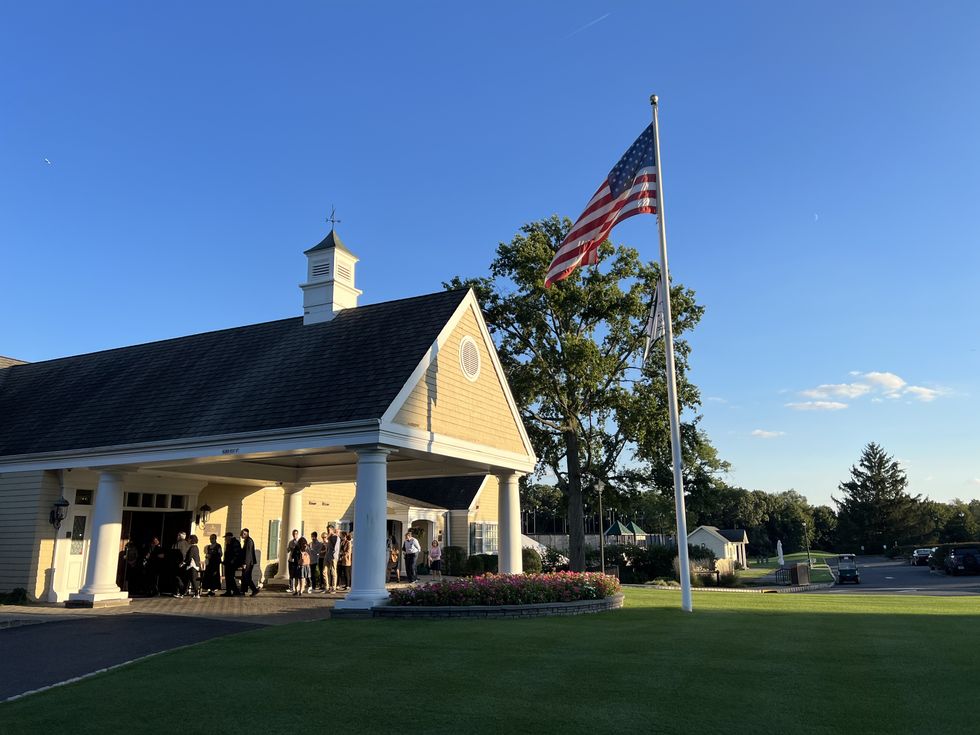 The Knickerbocker country club, Tenafly, NJ. Photo: Matthew Petti
Tickets to Haley's speech were free, but there had also been a VIP fundraising reception before the main event, hosted by Wall Street investment banker Bennett Schachter. NORPAC had advertised a Haley fundraising dinner open to donors who committed $6,600 or more, reports Al-Jazeera journalist Ali Harb.
On stage, Schachter thanked "our friends" at the American Israel Public Affairs Committee for their "support behind the scenes" for the event.
"If the local people are getting behind Nikki and supporting her and there's this big swell of momentum, that sends a message to the broader Republican Party, which says this candidate actually is reaching people on the ground level, she's not aloof, she's not unattainable, she's not unrelatable," Schachter had explained on the radio show "JM in the AM" a few days before the event. "That sends a message to the larger funders, and when you get that kind of swell, that leads to lots of money."
Haley experienced a boost in polls after the first Republican debate in August. And a recent CNN poll found that she was the Republican with the strongest lead over incumbent president Joe Biden in the general election.
However, she still lags far behind her Republican rivals. Haley's FiveThirtyEight polling average is 6.3 percent in the primaries, fourth place among Republican candidates, after biotech financier Vivek Ramaswamy. Former president Donald Trump remains the frontrunner.
During his radio interview, Schachter praised Haley for going "full throttle" in support of Israel at the Republican debate, when she bashed Ramaswamy's plan to wean Israel off of U.S. military aid. He predicted that Haley "will carry the Right politically, she will carry the Center politically, and she will carry a lot of the Left."
Fellow event organizer Joey Folkman added that he knew Haley from the time his family owned a factory in South Carolina. He praised the former governor for being the first to remove the Confederate flag from the state capitol and the first to ban boycotts of Israel.
Haley and the organizers pitched the same combination of moderate domestic politics and hawkish foreign policy on stage.
"We are dying to have a Republican in the White House, yet not enough are rallying around Ambassador Haley, who — unlike the current frontrunner [Trump] — has never lost an election, and has certainly never lost to Joe Biden," Folkman said in his introduction. "We are going to stop being enticed by campaigns that prey on divisiveness, anger, immaturity, conspiracy, and retribution."
Haley herself said that, when she faced bullying in school, her mother told her that "it isn't your job to show them how you're different, it's to show you how you're similar."
She cited that same childhood trauma as a reason for her pro-Israel stance. The Israeli ambassador to the United Nations was "humiliated" by the UN Security Council, said Haley, when the Obama administration refused to veto a Security Council resolution condemning Israeli settlements in the occupied Palestinian territories.
"The kid on the playground that got bullied got her back up," Haley said. "I never wanted anyone to feel like that."
Haley complained that President Joe Biden only met Israeli prime minister Benjamin Netanyahu several months into Netanyahu's term, and only "on the sidelines of the United Nations, not at the White House." (The meeting took place the same day as the campaign event.) She said that Americans needed "moral clarity about who your friends are."
Echoing one of her lines from the Republican debate, Haley declared that "Israel doesn't need America. America needs Israel." She argued that the same was true for the United Arab Emirates: "It was never that Israel needed them, they needed Israel."
If Israel was the unsung hero of Haley's worldview, Iran was the villain. Haley made her usual points about the threat posed by Russia and China, and the need to support Ukraine and Taiwan, but reserved her most vehement, emotional condemnation for Iran.
Iran had agreed last month to send home five Americans held in Iranian prisons, in exchange for five Iranians held in American prisons, as well as $6 billion in Iranian money frozen in a South Korean bank to be used only for humanitarian purposes. Biden administration officials greeted the American captives at the airport on Monday.
Haley claimed that the prisoner exchange "put a bounty on every American's head." And she complained that Iranian president Ebraham Raisi, a "murderous thug," thanked America for the deal with an anti-American speech at the United Nations.
"You can't change a culture," Haley said, although she was careful to clarify that she meant the culture of "this regime, not the Iranian people."
Haley added that any future deal with Iran "needs to include Israel and the Arab countries."
She accused Biden of putting Saudi crown prince Mohammad bin Salman in a position that "would make [bin Salman] look weak" if Saudi Arabia accepted any U.S. proposal. Because of that, Haley argued, Saudi Arabia was now unwilling to sign the U.S.-Israeli-Saudi deal that Biden is pushing for.
The focus on the Middle East didn't mean China was off the hook. Haley claimed that the Chinese government "has been preparing for war with us for years."
To audible gasps from the audience, she called China the "lead developer of 'neurostrike' weapons, engineered to change the brain activity of military commanders or segments of the population." Haley had issued the same warning in a July interview with CNBC, and again at an August speech in Iowa.
The term "neurostrike" was popularized by a thinly-evidenced July 2023 article, which speculated that China is developing strategies to "directly attack, or even control, mammalian brains." The researchers, calling themselves the CCP BioThreats Initiative, have previously made alarmist claims about Chinese virus research, nanotechnology, and electromagnetic pulse weapons.
She also contended that China, Russia, Iran, and North Korea were spreading "disinformation" to turn Americans against each other. "The one thing that bothers me the most is the national self-loathing that's taken over our country," Haley said. "All of our enemies are circling us in a way that is really dangerous."