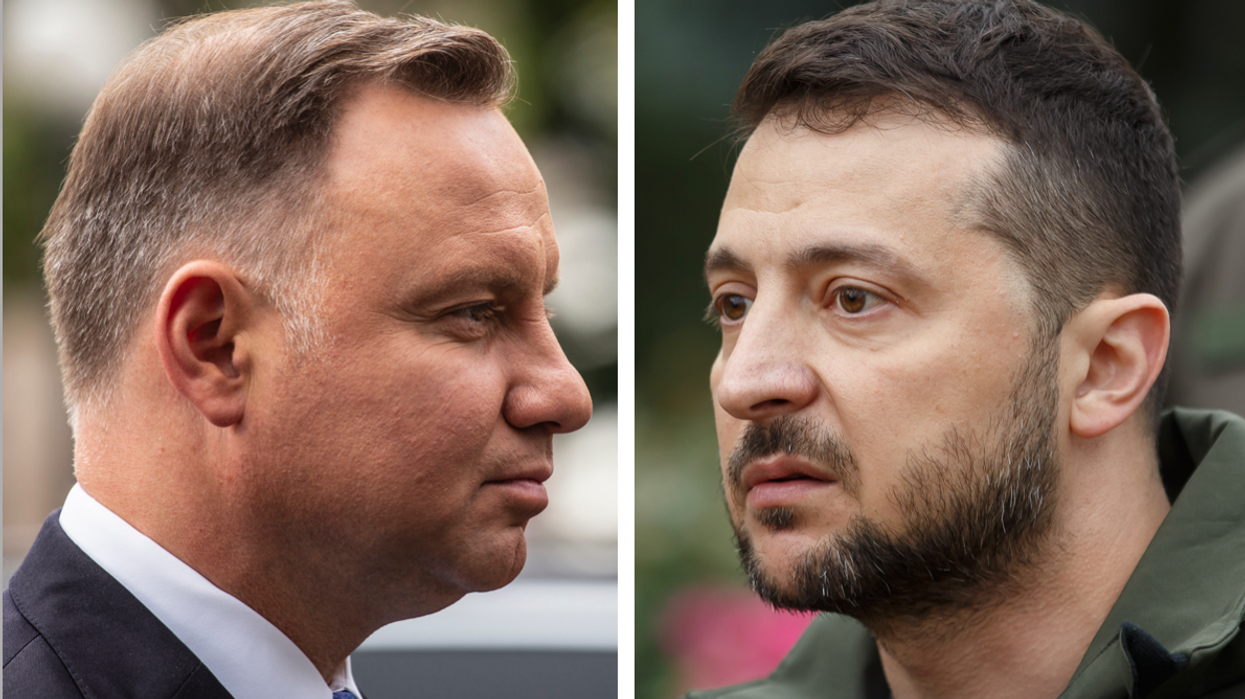 Credit: Polish President Andrzej Duda (Shutterstock/BikerBarakuss) and Ukraine President Volodymyr Zelensky (Shutterstock/Oleksandr Osipov)
QiOSK
The vitriolic dispute between Poland and Ukraine brings out some aspects of the West's approach to the war in Ukraine that the Ukrainian government would do well to study carefully.
The dispute originated in charges by Poland and other central European governments that Ukraine's greatly increased grain exports to Europe — a consequence of the Russian closure of the Black Sea to Ukrainian maritime trade — were flooding European markets and depressing prices for Polish and other farmers.
The relaxation of EU limits on Ukrainian shipments was supposed to allow Ukraine to resume exports to Egypt and other countries where vulnerable populations are suffering from increased prices as a result of the war. A considerable proportion has in fact gone to the EU itself instead. The EU imposed a temporary ban, which, however, it refused to lift when it expired on September 15th. Poland, Hungary and Slovakia have however continued the ban, in defiance of EU rules.
The Ukrainian government has brought charges against Poland at the World Trade Organization, and alleged that the Polish move has been motivated chiefly by the government's desire to hold onto farmers' votes in next month's Polish general elections. Speaking to the United Nations, President Volodymyr Zelensky accused Poland and other countries of engaging in theatrics and "making a thriller out of grain." Polish Prime Minister Mateusz Morawiecki hit back ferociously:
"I want to tell President Zelensky never to insult Poles again, as he did recently during his speech at the U.N. The Polish people will never allow this to happen, and defending the good name of Poland is not only my duty and honor, but also the most important task of the Polish government."
Polish President Andrzej Duda added:
"Ukraine is behaving like a drowning person clinging to anything available. A drowning person is extremely dangerous, capable of pulling you down to the depths…and drowning its rescuer."
In a move widely interpreted as retaliation for Ukraine's protests against the grain ban, moreover, Poland has halted arms shipments to Ukraine, insisting that it will now concentrate on equipping its own armed forces to defend Poland.
What makes this so extraordinary is that Poland has long portrayed itself as Ukraine's greatest friend in the West, and has accused other Western governments of cowardice for not doing more to arm and support Ukraine.
The first lesson to be learned from all this is that even in countries whose populations are most supportive of Ukraine, that support will have limits when it imposes high and visible costs on themselves, and that politicians will inevitably exploit the resulting political backlash. This has implications in particular for Ukraine's chances of joining the European Union.
In the case of Poland and other former Communist states of Central Europe, their path to EU membership was helped by copious amounts of EU financial assistance. The EU's Regional Development Fund continues to support depressed areas of Poland and its neighbors. Supporting Ukraine to the point where it could enter the EU will, however, be a task of a different order of magnitude. Even before the Russian invasion, Ukraine was one of the poorest countries in Europe, with an average GDP per capita in 2021 of only $4,828 (compared to an EU average of $38,436) and its chances of joining the EU in the foreseeable future were considered vanishingly small.
Moreover, EU countries (in Western as well as Central Europe) were always fearful of cheap Ukrainian food imports. Ukraine's Association Agreement with the EU explicitly barred most Ukrainian grain exports as part of the EU's strategy of defending European farmers through its Common Agricultural Policy (CAP). This ban was removed by Brussels only in response to the Russian invasion and blockade. Poland has now restored it.
In March of this year, the World Bank estimated the cost of postwar reconstruction up until then at around $411 billion, and that cost will of course increase further the longer the war goes on. The whole of EU spending on depressed areas within the EU in the seven years from 2014 to 2021 was $200 billion. To judge by Poland's latest moves, it seems improbable that a future Polish government would ask its voters to pay Poland's share of such costs; and if Poland won't, who will?
The other thing to which Ukrainians should pay attention is that, as dramatized by Poland's latest actions, hatred for Russia and real sympathy for Ukraine are not at all the same thing and may even contradict each other. Concerning Polish hatred of Russia, there can be no doubt; but underlying the remarkably harsh rhetoric of recent days has been the fact that historically speaking, Poles and Ukrainians also used to be bitter enemies.
The Polish kingdom, and the Polish republic between 1919 and 1939, sought to Polonize their Ukrainian subjects just as the Russians tried to Russify theirs. Ukrainian revolts against Polish rule massacred Poles along with Jews. Political struggles between Poles and Ukrainians for control of Galicia helped undermine the Austro-Hungarian Empire in the years before 1914. After 1918, Poland annexed the Ukrainian areas of Galicia by force, and held them until they were transferred to Soviet Ukraine by Josef Stalin as a result of the Molotov-Ribbentrop Pact - which is why they are in Ukraine today, and not in Poland.
During and immediately after the Second World War, Ukrainian nationalist partisans massacred tens of thousands of ethnic Poles, and Ukrainians serving in the 1st Galician Division of the Waffen SS participated in ruthless German operations against the Polish resistance. In recent years, both Kyiv and Warsaw have sought to play down this history, but memories of it continue to flow very close to the surface on both sides.
This history is peculiar to Poland and Ukraine; but with regard to the United States too, Ukrainians should ask themselves how much of U.S. support for Ukraine is motivated by real sympathy for them, and how much is devoted to killing as many Russians as possible and weakening Russia as much as possible, no matter how many Ukrainians die and how much Ukraine is weakened in the process — as some statements by U.S. politicians and officials have tended to suggest. Thus Sen. Mitch McConnell (R-Ky) recently boasted, "We are destroying the Russian army without losing a single American soldier."
Other hawkish U.S. commentators have argued that it is necessary to defeat Russia in Ukraine in order to weaken China - which is not why Ukrainian soldiers think they are fighting and dying.
An indefinite war with no clear victor will indeed weaken Russia; but it will also ruin independent Ukraine — something that now appears to be a key Russian war aim; and a ruined Ukraine will never be able to join the EU. If this is the case, then Western promises and declarations about Ukraine's Western path will ultimately count for nothing. Ukraine will remain — as it was for most of history — an impoverished borderland between Poland and Russia.
That is not an outcome that the West should be working towards, however much Russia may also be hurt in the process.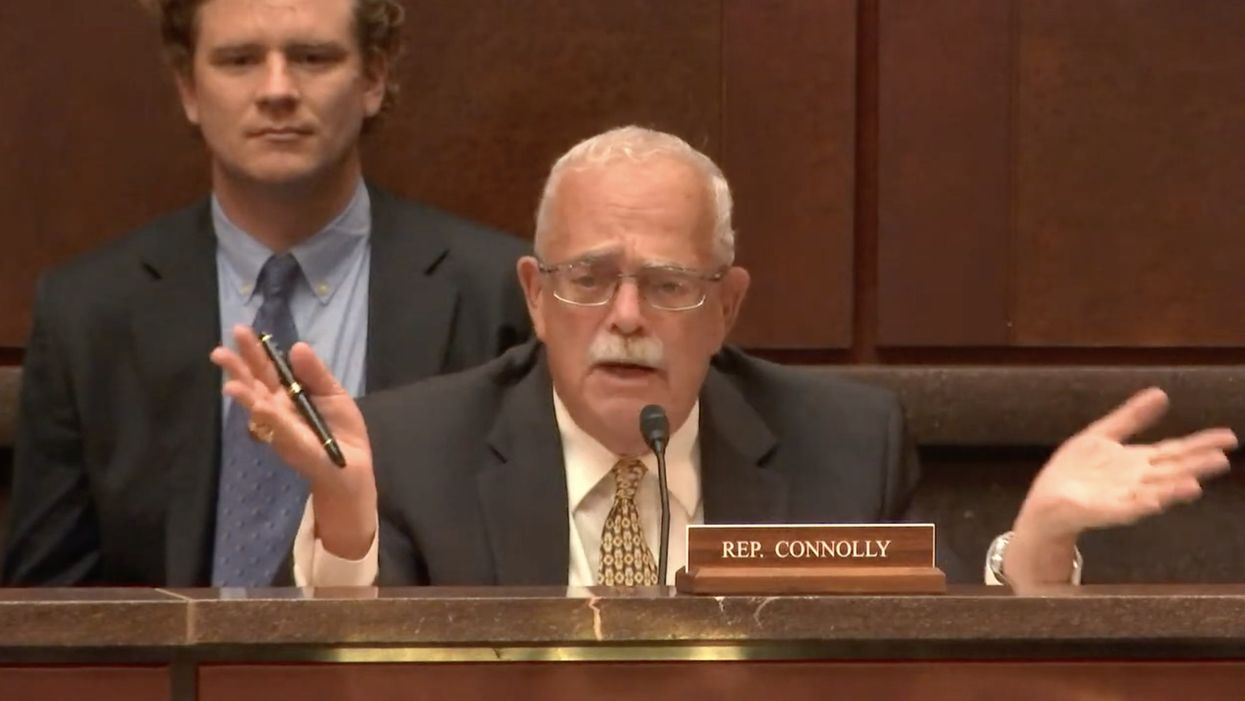 Middle East
During a recent House hearing on "Iran's escalating threats," a Democratic lawmaker completely dismantled all the myths opponents of diplomacy peddle about Iran and its nuclear program.
The hearing was dominated by hawkish voices on Iran, who urged for increasing pressure and spurned any diplomatic engagement. The only exception was Suzanne Maloney from the Brookings Institute, who took a more moderate stance.
The other witnesses, especially Behnham Ben Taleblu, from the Foundation for the Defense of Democracies, a hardline "pro-Israel" think tank that often pushes militaristic approaches to U.S. foreign policy, called for a more confrontational U.S. stance by triggering the "snapback" of UN sanctions in October, a move that would likely drive Iran to the edge of a nuclear breakout and spark a major nuclear crisis.
Taleblu also lambasted what he said is the Biden administration's "overall risk aversion" in response to Iranian regional intervention, which he said amounted to "signaling irresolution" to Iran. He cited several incidents where he claimed the U.S. failed to enforce what he called "deterrence by punishment." He said they deserved a "kinetic response" (a euphemism used by the DC Blob to mean military strikes), arguing that these events eroded the perception of "American willingness to use force in general."
Against this backdrop, one of the most striking moments of the hearing was when Rep. Gerry Connolly (D-Va.) exposed the flaws and fallacies of Taleblu's arguments by eliciting the expert testimony of Maloney, a scholar on Iran and its politics. Connolly skillfully used a series of questions to highlight how the 2015 nuclear deal, known as the Joint Comprehensive Plan of Action (JCPOA), had successfully curbed Iran's nuclear program and ensured its compliance, before it was recklessly abandoned by the Trump administration in 2018. He also challenged the notion that a military solution was viable or desirable for the U.S., especially when Israel, one of the most vocal opponents of the JCPOA, had refrained from using it when it had better options.
Connolly dismantles the hawkish myths about the JCPOA
Connolly started by asking Maloney if there was ever a peaceful solution that had rolled back Iran's nuclear program and prevented it from reaching the threshold of a nuclear weapon. Maloney confirmed that this was achieved by the JCPOA, and added that Iran's compliance was verified by the IAEA and by Trump's own State Department. "Iran was complying with the JCPOA," she said.
She also said that if the deal had been fully implemented, and if there had been an opportunity to negotiate a follow-on agreement, as "everyone who was involved in the deal had hoped," then the U.S. would be "in a much stronger position with respect to Iran's proximity to nuclear weapons capability."
Maloney added: "We have far worse options today than we had in 2015 or we did in 2018 when President Trump exited from the deal."
Connolly then turned his attention to one of the most vocal opponents of the JCPOA before it was implemented: Israel's Prime Minister Netanyahu. He recalled how Netanyahu had bypassed President Obama and addressed a joint session of Congress in 2015, arguing that the JCPOA was so vital and so dangerous that it superseded politics.
He asked Maloney whether Netanyahu had been concerned about Iran's nuclear threat when he first took office as prime minister, and whether he had the ability to launch a military strike against Iran then. Maloney admitted that Israel had better options then than it does now, but had refrained from attacking Iran.
Connolly wondered why some people were eager to advocate for a U.S.-led military option now, when Netanyahu himself had not used it when he had a better chance. He said that it would be much more complex, difficult, and costly for the U.S. to attack Iran now. Maloney agreed that this was "a fair statement."
Connolly concluded by saying that the U.S. had to consider the consequences of its actions:
"It's something we have to consider, and we have to take responsibility for the past. A lot of the people who opposed JCPOA were proved wrong, they didn't cheat, they complied, it was verified by IAEA and by the Trump administration itself, and we walked away from it. We did that. Not Russia. Not Iran. And we need to take some responsibility for that and try to repair some of the damage we caused."
Watch:
The Iran Hawks' Agenda: Sabotaging Diplomacy and Pushing for War
Connolly exposed the Iran hawks' arguments for what they are: a collection of lies, distortions, and contradictions that aim to sabotage diplomacy and drag the U.S. into another unnecessary and costly war.
The fact that hawks like Taleblu and FDD continue to advocate for more pressure and military confrontation with Iran, despite the dismal failure of their approach, reveals their true agenda: they want to destroy any chance of peaceful resolution and force the U.S. into a confrontation that would serve only the interests of neoconservatives and the right-wing Israeli government. We need more courageous politicians like Connolly to stand up to their warmongering and defend diplomacy as the only sensible way forward.
Latin America
When the BRICS grouping held its annual summit in late August, it was widely covered as a portentous affair that signaled a ripening challenge to the U.S.-led global order.
For the first time, the group expanded considerably, reflecting a growing ambition not necessarily shared by each original member. It was reasonable to wonder whether a robust challenge to U.S. hegemony was imminent.
For Latin America's largest nation, however, participation in an increasingly assertive BRICS need not conflict with a warm working relationship with Washington. Brazilian president Luiz Inácio Lula da Silva demonstrated as much at last week's UN General Assembly.
Indeed, Lula's deft diplomacy turned his country into arguably the biggest winner at the annual gathering of global leaders, showing almost single-handedly that the door is not yet shut on a genuinely independent foreign policy in a moment of heightening superpower tensions. He did so by identifying substantive areas of mutual interest with the United States and taking concrete steps to show flexibility and an openness to dialogue, also with respect to the Ukraine war.
When Lula, who began an unprecedented third term in January, announced early in his address on Tuesday that "Brazil is back," he was interrupted by applause from members of the General Assembly, which by tradition Brazil opens. Lula's address emphasized many of the same points he made as Brazil assumed the reins of the G20 in India earlier this month: the urgency of combating climate change, the need to find mediated solutions to armed conflicts, and the importance of reversing growing inequality worldwide.
Lula's return to the dais 20 years after his first address as president marked a welcome return to form for Brazil, a country long committed to the UN as a meaningful arena of international diplomacy. Indeed, aside from South Africa's Cyril Ramaphosa, Lula was the only BRICS leader to attend this year's General Assembly.
Lula used his address to criticize the UN for its inability to preserve its relevance, describing the impasse as he sees it and calling for reforms that he believes can make the body matter more. "The international community must choose: On the one hand, there is the expansion of conflicts, the deepening of inequalities and the erosion of the Rule of Law," he said." On the other, the renewal of multilateral institutions dedicated to promoting peace."
He decried sanctions applied unilaterally and the ongoing embargo against Cuba. He also criticized the ineffective insularity of the UN Security Council, discredited by "the actions of its permanent members, who wage unauthorized wars in search of territorial expansion or regime change. Its paralysis is the most eloquent proof of the need and urgency to reform it, giving it greater representativeness and effectiveness."
Lula made clear that his nation wants a greater say in a UN that is actually functional and effective, not withdrawal from a body consigned to irrelevance.
Lula's meeting with Ukrainian president Vladimir Zelenskyy the next day demonstrated his careful and even-handed diplomacy in pursuit of an early end of the war in Ukraine. Brazil, like most Global South states, has prioritized relations with both warring parties as it realizes well the high economic costs of the conflict's continuation. Even though he has clearly criticized Russia's invasion of its much smaller neighbor, he had before this week not met personally with Zelenskyy. Finally having done so, Lula has bolstered his claim to fairness and balance.
For his part, and from a different angle, President Joe Biden argued for the continued importance of the UN. He called the lack of further world wars, the ascension of hundreds of millions out of poverty, and the eradication of several devastating diseases "a profound testament to what we can achieve when we act together when we take on tough challenges."
U.S. health assistance in Africa — such as PEPFAR and fighting the Ebola epidemic — have been excellent examples in this regard. Biden urged the UN to re-embrace its founding precepts of collaboration, respect for sovereignty, and human rights and seemed to signal support for a reform of multilateral institutions to reflect shifting international dynamics. He also spoke of strengthening democratic values around the world. In these areas, his message aligned with Lula's.
The following day, Lula and Biden held a bilateral meeting to discuss a host of issues, but most importantly to announce a new joint effort related to workers' rights.
"Over the last few days," Biden said by way of introducing the initiative, "the nations of the world have talked about climate change, sustainable development, food security, economic resilience." The president noted the centrality of working people to each one of these challenges and concluded that "we have to empower them as well. And that's what this new partnership is all about." Pointing at Lula, he added, "the partnership actually was this man's idea."
While both leaders talked about the importance of union protections, living wages, pensions, and other basic rights often denied in the modern economy — Lula's labor minister also took the opportunity to sit down with members of the United Auto Workers to discuss the ongoing strike and working conditions in the United States — it remains to be seen what concretely will come from this new undertaking. Nevertheless, its importance should not be underestimated. More than anything, it marks an identifiable point of convergence between Brasília and Washington, an issue on which both leaders are personally and politically invested.
Durable, productive ties between nations require such investment. A willingness to collaborate in this area — or even just to be seen committing to collaboration — is a positive sign. However, the Biden-Lula convergence on global labor standards may not be aligned with many Global South states, especially in Asia, who see the U.S. push for such standards as protectionism in disguise.
Labor was not the only area in which members of the Brazilian delegation sought to make clear that it still very much wants to engage with the United States. Climate action was another. Finance Minister Fernando Haddad held multiple meetings with activists, government officials, and investors to pitch them on green investments in Brazil. Before flying to New York, Haddad gave an interview in which he praised Biden's economic agenda and said there was absolutely no reason the United States shouldn't see Brazil as a key trading partner — not least because, as he noted, "China is entering America through the Southern Cone." Minister of the Environment Marina Silva held several meetings as well, emphasizing Brazil's role in mitigating the effects of climate change.
Together, these efforts underscored Lula's attempts to show that Brazil's embrace of a multipolar world does not mean it is eager to turn its back on the United States. That Brazil is finding meaningful areas of collaboration with countries of various ideological and political stripes indicates that international relations in Latin America have not yet ossified into the rigid opposing camps that would characterize a new cold war.
It might serve as a model, in fact, for countries looking to avoid one.