Weapons industry giant Lockheed Martin is once again advertising in Politico's daily foreign policy newsletter, after taking a brief, unexplained hiatus last month. 
On August 16, after the sponsorship was the subject of widespread mockery on the internet, Lockheed's ads were not only scrubbed from the following editions of the National Security Daily, but they also disappeared from all previous editions. 
But during Lockheed's advertising hiatus, Politico ran a puff piece about one of its weapons research and development facilities, which the author described as akin to visiting Willy Wonka's chocolate factory. 
Meanwhile, the September 3 edition of Politico's paid subscription newsletter Morning Defense ran a blurb touting how many jobs Lockheed Martin would be bringing to Johnstown, Pa. "for F-16 manufacturing work."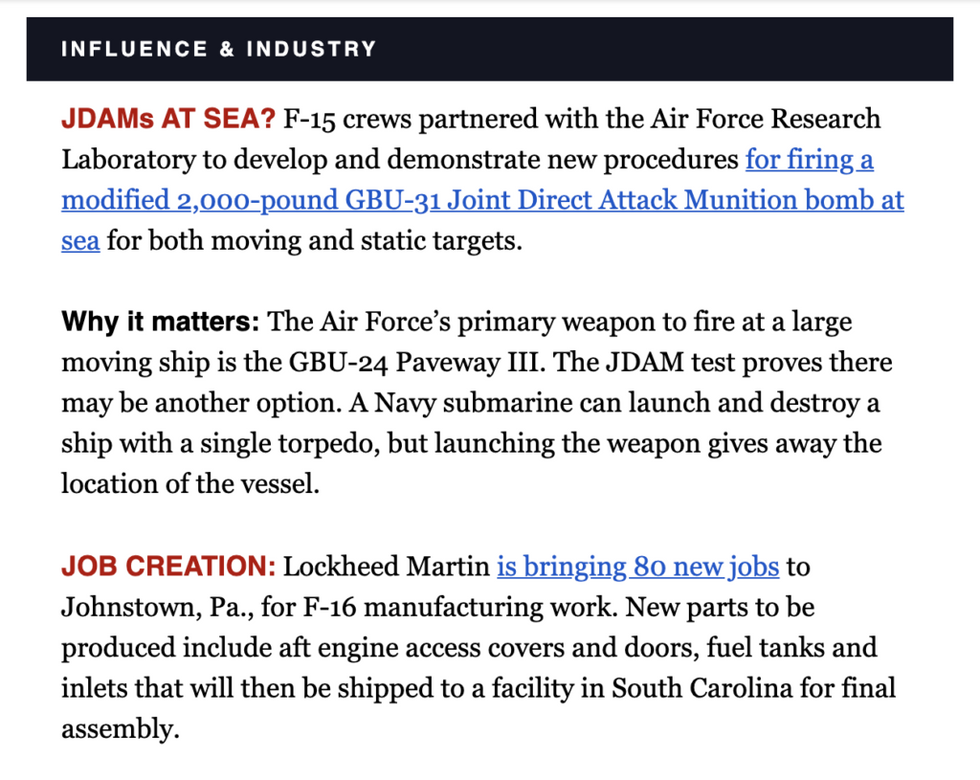 Indeed, those opposing cuts to the Pentagon's budget or promoting increases in defense spending often claim (however dubious) that taxpayer dollars going to weapons firms creates jobs. In fact, it's part of Lockheed Martin's self-promotional material. 
Responsible Statecraft asked Politico whether Lockheed Martin paid for that blurb, why the ads disappeared and then resurfaced, and about the more general optics of the weapons industry giant's sponsorship.
"There is a strong firewall between POLITICO's newsroom and business teams," a Politico spokesperson said, adding that the outlet's sales team "has no influence whatsoever on editorial content and does not share client information with reporters and editors. Advertisements are plainly visible and demarcated in our newsletters and across our platforms."
Regarding Lockheed Martin advertising on Politico's foreign policy newsletter, Mandy Smithberger, director of the Center for Defense Information at the Project on Government Oversight, said "it obviously creates the appearance of a conflict of interest." 
POGO's weekly newsletter, the Bunker, actually derides the practice of these kinds of corporate sponsorships, noting that it's not funded by the likes of Lockheed Martin or Northrop Grumman.
"There is, at least, the benefit of some transparency so that the public can judge whether advertisers are exercising undue influence over content," she said, adding, "I'm more concerned by those publications including more sponsored content, which is much less clear to readers about what is news and what's a paid ad."